:: Ingredients ::
For the filling:
12 dumpling pastry sheets
200 g broccoli
½ leek
100 g cured ham
1 tbsp pine nuts
1 tbsp grated Parmesan cheese
1 egg
Salt, black pepper
Extra virgin olive oil
For the sweet and sour sauce:
100 cc traditional vinegar
2 dsp agave honey
2 tbsp soya sauce
As a garnish:
8 green asparagus tips
1 tbsp toasted pine nuts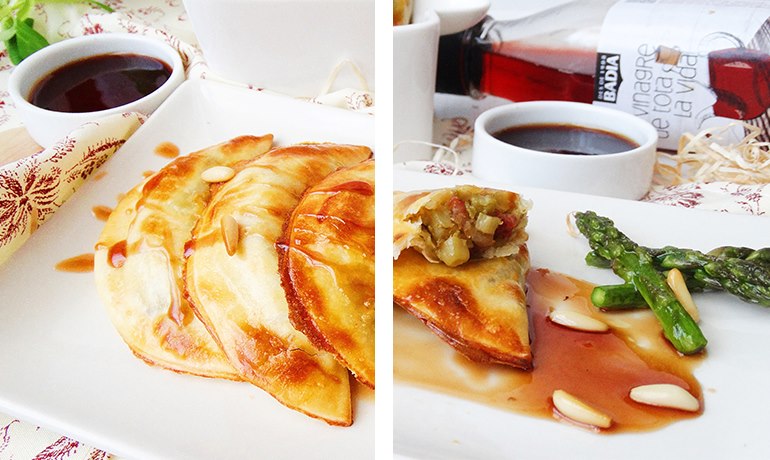 :: Preparation ::
For 4 servings
Time: 30min
To prepare the sauce, add the vinegar, honey and soya sauce to a saucepan, bring to boil and reduce for 7-9 minutes. Allow to cool.
To prepare the filling, wash the broccoli, separate into small florets and steam. Set aside.
In a pan with a little oil, brown the leeks, which have already been washed and cut into thin slices, with a little salt, for about 5-7 minutes.
Add the thinly-sliced ham, stir-fry for a couple of minutes before adding the pine nuts and the reserved broccoli. Cook everything for a couple of minutes to combine the flavours.
Remove from the heat and add a little pepper and grated cheese, and mix.
Fill the sheets with the filling by putting a little in the centre of each, then painting the rim with a little water, folding the pastry and pinching it so that the filling doesn't spill out. Once they are all folded, paint the outside with the egg wash.
On a baking tray, place the dumplings on greaseproof paper, and bake in the preheated oven at 180° for about 10-15 minutes or until golden brown.
To prepare the garnish, stir-fry the asparagus in a pan, with a few drops of oil and a pinch of salt, until they are golden.
On a plate, arrange a bed of sauce, the dumplings on top, garnished with the asparagus and some pine nuts. Serve with the sweet and sour sauce in a separate bowl.
NOTE: It's best to steam the broccoli, but if it is boiled make sure it is well-drained and dry, as if not it will make the filling watery.
** Don't use too much salt, remember that the ham is already salty.
** Don't overfill the pastry sheets, or the filling will leak out.
** Place the tray in the centre of the oven, with heat from above and below.
** The oven time is a guideline.
** Asparagus is better left al dente.
** tbsp = tablespoon
** dsp = dessert spoon
Original recipe created by Dolorss from the culinary blog Blog de cuina de la Dolorss
Did you like this recipe? Keep on discovering how to use our vinegars and bittersweets